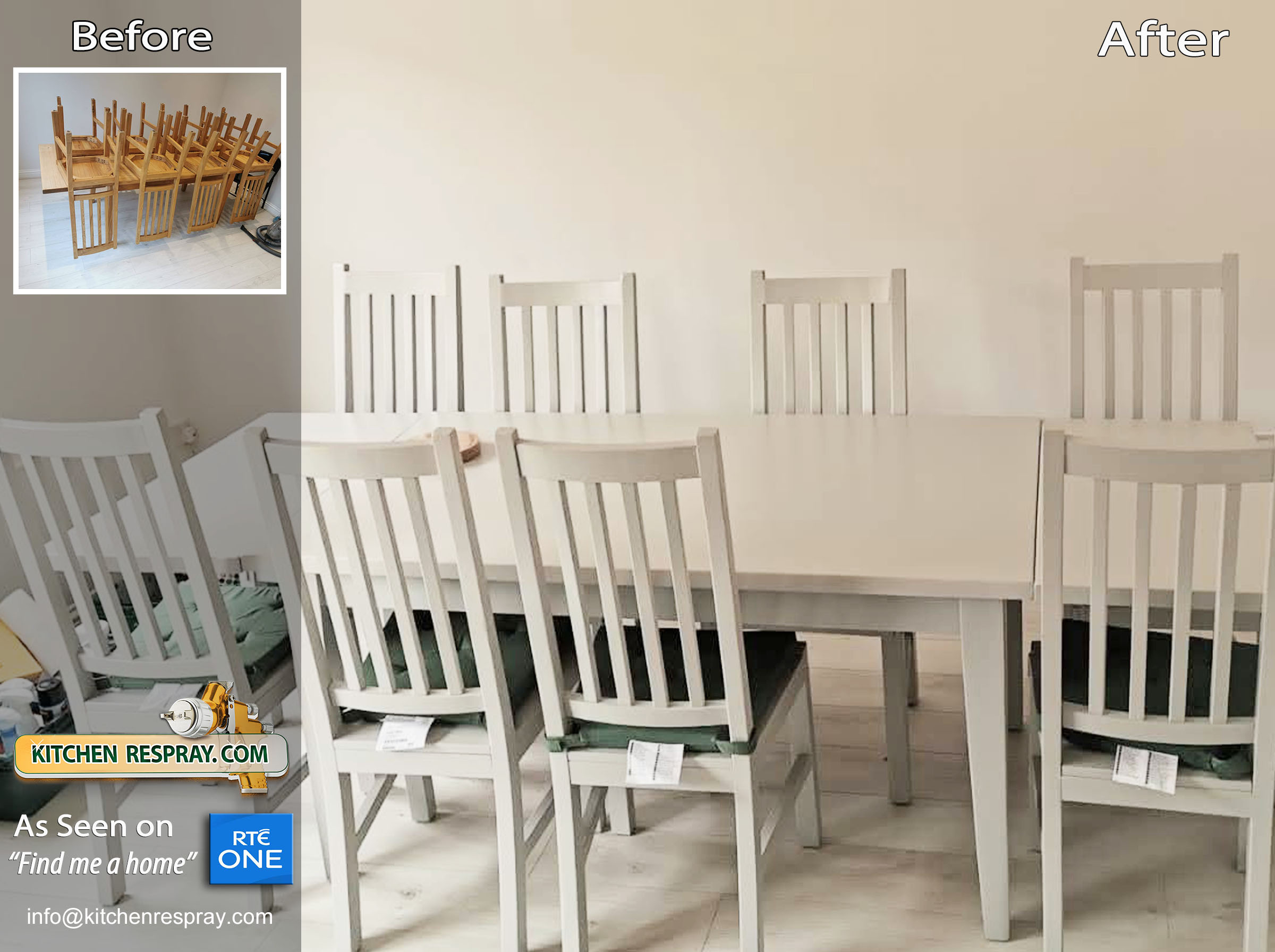 Furniture Respray? Tell me more.
Experts such as the skilled team at Kitchen Respray Ireland utilise advanced spray painting technology and specialised products to apply a thin, even coat of paint onto worn furniture. The precision of air spraying ensures a smooth and flawless, exceptionally durable finish, promising a long-lasting result.
Unlocking the Potential of Aging Furniture
Furniture replacements can add up to a serious amount, yet many house owners that want to modernise the interior design see no other option. Old furniture can be saved easily and given a second life. The procedure involves a slight change in appearance and it is called furniture respray.
Consider furniture respray a remarkable opportunity to address the wear and tear accumulated over the years, effectively halting the signs of ageing. Our team utilises a robust and durable professional paint that guarantees exceptional longevity, ensuring your furniture remains in excellent condition for many years.
Restore your Favourite Furniture
Old pieces of furniture can very often have emotional or sentimental value. There could be family heirloom pieces or favourite items that belonged to a parent or a grandparent. Throwing such items away is impossible for many homeowners. Furniture respraying is the perfect possibility for preserving these pieces. Though their appearance will be slightly modified, the family heirlooms will remain inside your home for many additional years. You'll get to enjoy those and relive the wonderful memories.
Professional spray painting is one of the best options for preserving older furniture. The outcome looks great and the project is inexpensive, which is why you need to give the possibility a try.
ReSpray your old and worn Furniture with Furniture Respray.
Furniture Respray
Revamp Your Home with Furniture Respray: A Budget-Friendly Alternative to Buying New
Over time, wood furniture naturally loses its lustre, resulting in a dull and darkened appearance. However, furniture respray provides an ideal solution to breathe new life into your precious pieces without purchasing replacements. This transformative process involves applying a fine coat of paint onto the original surface, allowing you to change the colour and enhance the texture of your ageing furniture.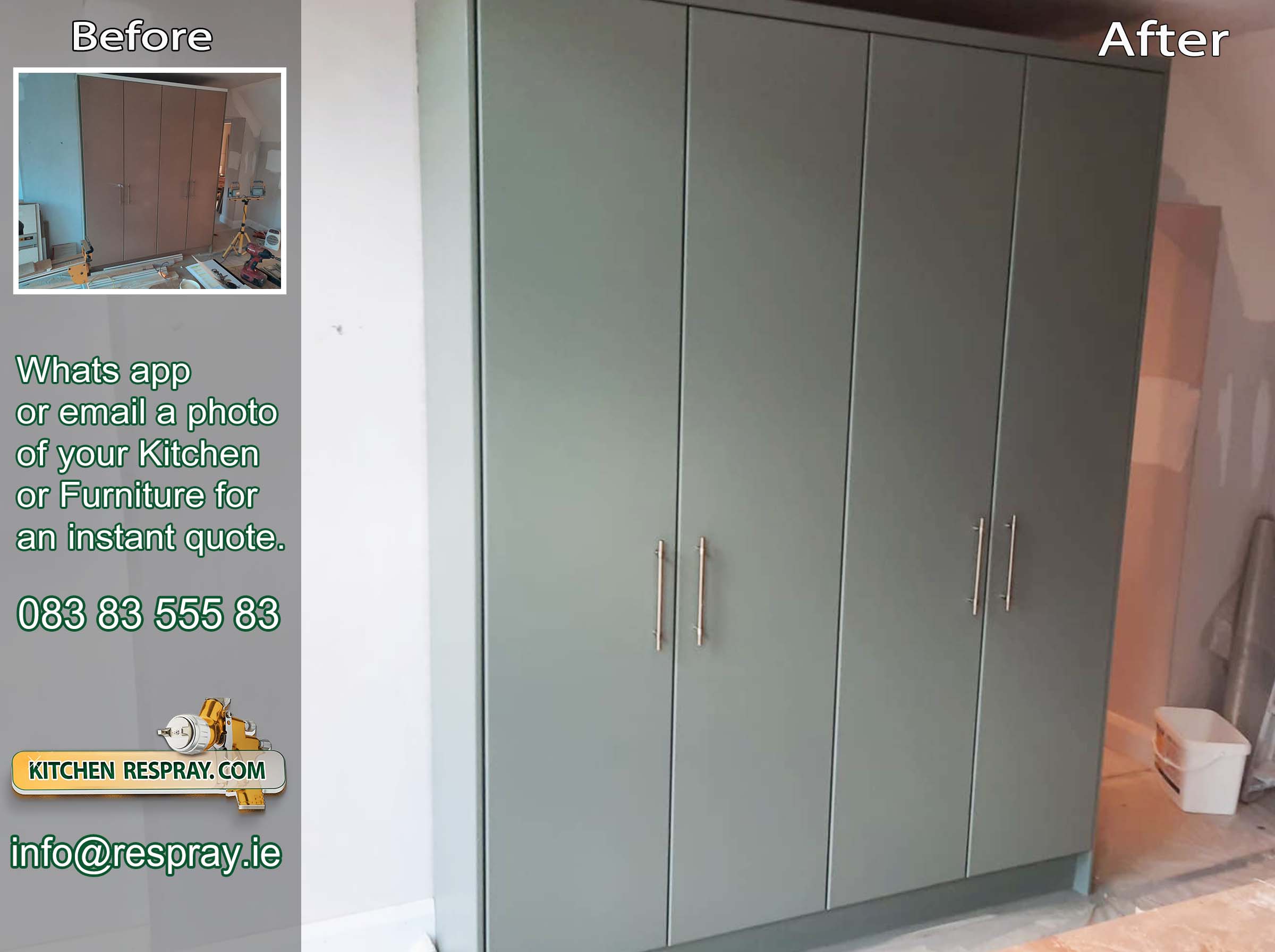 Wardrobe Respray
Experience the transformative effects of spray paint, resulting in a remarkably smooth and sleek finish for your furniture. With a more streamlined and modern appearance, your pieces will exude a fresh aesthetic. Moreover, selecting a vibrant colour can completely transform the ambience of any room. Embrace the best part of furniture respray—working with what you already have rather than being compelled to make expensive purchases. The professional-grade paint utilised by experts like All Surface Respray boasts exceptional durability, significantly extending the lifespan of your furniture.
Not all Spray companies are the same!
Illegitimate services often resort to offering low prices as a way to compensate for their other deficiencies. Consequently, there exists a correlation between opting for unreliable services and opting for inexpensive alternatives.
Thanks for doing a great job "They changed our kitchen from shabby and tired to what looked like a brand new kitchen in a few days and for quarter of the replacement cost we were quoted…. What's not to like about that? I would highly recommend them" Yvonne O Connor ( Dublin )
━

YVONNE O CONNOR
"Kitchen Respray did a great job, thanks for delivering on every promise and more. I would have no doubt in recommending them." Laura McGowan
━

LAURA MCGOWAN